Предисловие
22 марта 2018 года в Технологическом университете состоялась III Международная студенческая научно-практическая конференция «Science, Culture and Youth», организатором которой выступила кафедра иностранных языков.
Участников конференции приветствовали председатель Оргкомитета конференции проректор по научной работе и инновационной деятельности, кандидат экономических наук Старцев В. А., начальник отдела международного сотрудничества Корсакова Л. В. и заведующий кафедрой иностранных языков профессор, кандидат филологических наук Красикова Т. И.
В конференции приняли участие 48 докладчиков, из которых 18 выступили очно на пленарном заседании. Доклады были представлены на английском, французском, немецком и русском языках по следующим направлениям:
1. Актуальные проблемы современности.
2. Глобальные проблемы цивилизации.
3. Роль иностранного языка в жизни и профессии.
4. Инновационное развитие технических, естественных наук.
Актуальные проблемы современности
Azarnyh K.A. 
Adaptation of immigrant youth to educational environment of Moscow region
The article is devoted to the process of adaptation of immigrant youth to the educational environment of the Moscow region. Conditions for successful adaptation of immigrant students to the educational environment of Moscow universities are determined. Based on the data obtained during the sociological survey using the questionnaire survey, the peculiarities of the process of adaptation of immigrants to the social environment of the host country have been revealed.
Keywords: adaptation, immigrants, educational environment.
Russia is an economically developed and relatively stable state on the socio-political plane. Every year more and more foreign students come to Russia for higher education.
According to the State Program of the Russian Federation «Development of Education» for 2013—2020, the share of foreign students studying in Russia should grow from 2.3% in 2011 to 10% by 2020. [2]
Coming to Russia, immigrant students immerse themselves in an unusual socio-cultural environment. They get acquainted with other people's norms, values, lifestyle, behavior patterns. Recognizing the new environment and trying to fit into it makes up the adaptation of foreign students.
According to the researcher M. Ivanova, foreign students encounter difficulties at various levels in the course of adaptation to the educational environment: linguistic, conceptual, climatic, everyday, communicative, etc. [1] Overcoming these barriers involves personal, emotional, intellectual and physical overloads, so the process of adaptation is not always fast and painless.
Students — immigrants undergo the following stages of adaptation in the educational environment:
— Preparatory. At this stage, an information package is being formed, with the aim of adapting to the chosen university, region, and place of residence.
— Adaptation itself. The mastering of new ways of life by the student, which is aimed at making independent decisions, the way of life of the university, the arrangement of a new residence in the new city, the search for friends, mutual understanding with the local population.
— Self-organized adaptation. A student's knowledge of himself as a part of society, the independent organization of educational activities, communication with the local population, the appearance of a sense of security.
The living conditions at the initial stage of training have the most significant effect on the process of the adaptation period. The course of this process is also influenced by the presence-absence of conditions for classes. [3.S.17]
The purpose of this study was to determine the conditions for the successful adaptation of immigrant youth to the educational environment of the Moscow region.
The main objectives of the study were:
1. Identification of young immigrants' assessment of the process of their social adaptation in Russian society.
2. Analysis of the assessment of foreign students in the process of their adaptation to the university environment.
3. Definition of conditions for the successful adaptation of immigrant students to the educational environment of Moscow universities.
In connection with the tasks set, an empirical sociological study was conducted using the questionnaire survey on the topic: «Adaptation of immigrant youth to the educational environment of the Moscow region».
The survey involved 99 people from the immigrant background at the age of 16 to 27 years. 57% of them are men, 43% are women. All — students of universities of the Moscow region, having different citizenship.
The most significant factor of emigration, which led to the choice of 50% of respondents in favor of Russia, was «a high standard of living in Russia, compared with their native country»; one out of every three respondents noted «the opportunity to find high-paying jobs in the specialty» and «getting a high-quality education». These material factors played a role, because in the recent difficult circumstances caused by the protracted world economic crisis, people are looking for a place where they will be safer and calmer for their future. Such a place they consider Russia — a country of real opportunities.
Upon arrival in Russia, more than half of the respondents faced problems. Of these, about 70% — with «lack of housing», more than 60% — with «lack of money», more than half experienced «registration difficulties,» and about 30% felt «prejudiced treatment by law enforcement agencies.» Every 10th «clashed with the local population».

These data correlate with the data of the following diagram. Only a fifth of the respondents believe that the local population «rather positively than negatively» refers to them. The others do not share this opinion or could not answer.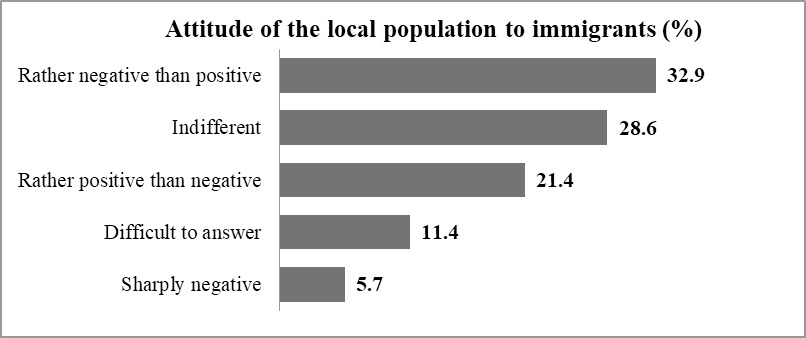 To the question: «What do you think, what would most of all the local population want from immigrants?» Half of the respondents noted the importance of «observing local norms and rules of behavior» and «knowledge of the Russian language». More than 40% of respondents — «compliance with Russian legislation». One out of three believes that local visitors are expected to have a benevolent attitude, conscientious fulfillment of their work duties or they want them to leave Russia as soon as possible. These respondents are aware of the importance of these indicators for the local population.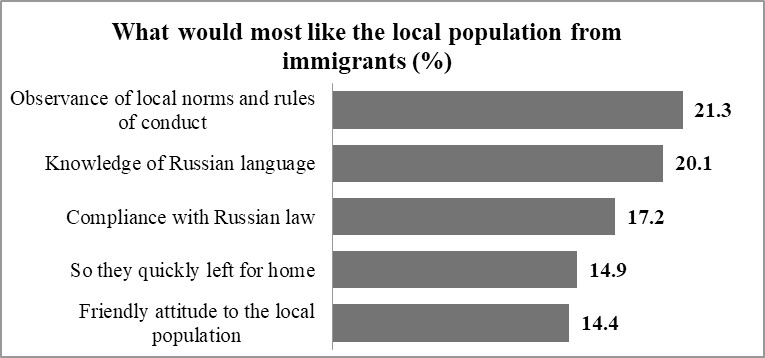 More than half a dozen of those surveyed in assessing the benefits that they believe immigrants from Russia bring to their country have stressed that the newcomers «carry out low-paid, unskilled jobs for which Russians do not undertake.» More than a third noted that they «supplement the state budget by buying patents for labor activity and paying the state fee». A slightly smaller number of respondents indicate that «young immigrants improve the demographic situation in the country, becoming Russian citizens and creating families among themselves and with representatives of the local population.»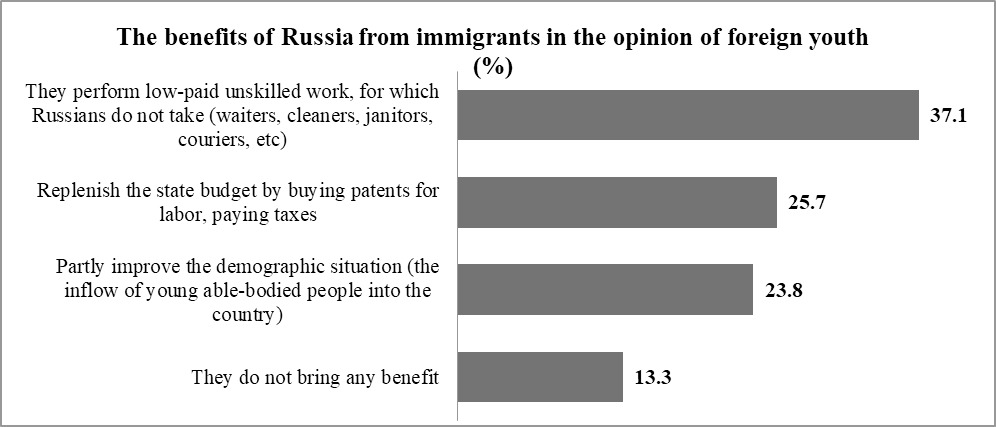 When determining the level and conditions of study in Moscow universities, it was found that it meets the expectations of the respondents, and only every 10th foreign student wants to return to the homeland after graduation.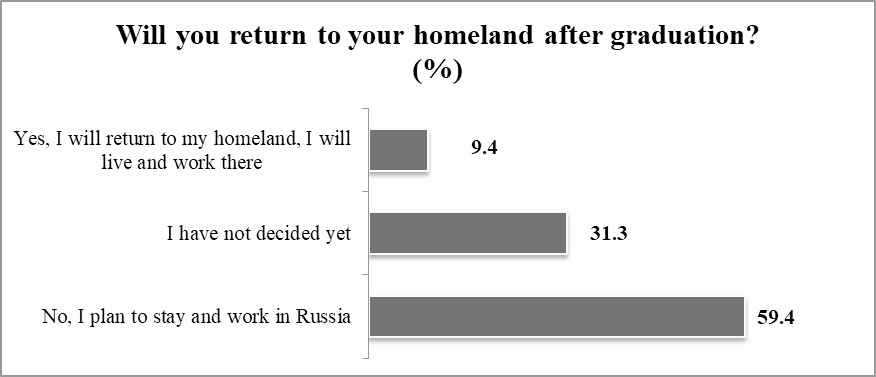 The majority (about 80%) of visitors had quite favorable relations with classmates, which is evidence of their successful social adaptation to the student body. However, every tenth feels lonely. Perhaps this is due to their psychological characteristics, which interfere with the processes of adaptation to any new environment.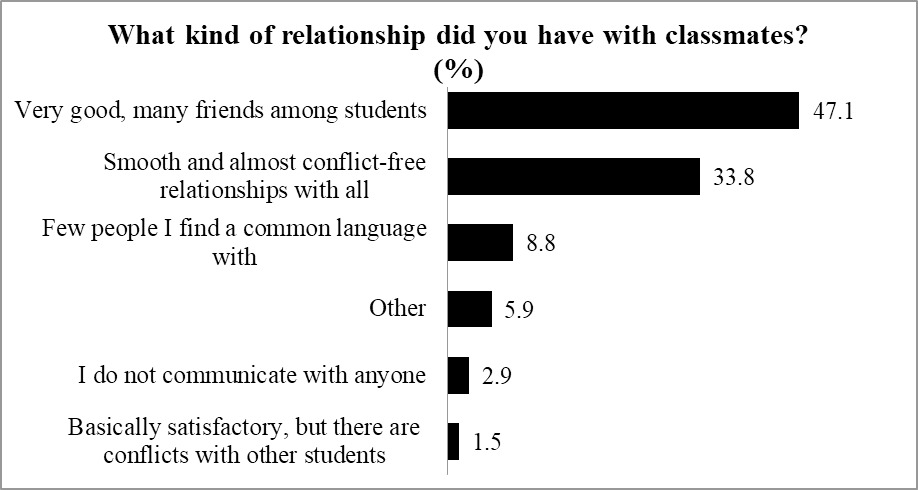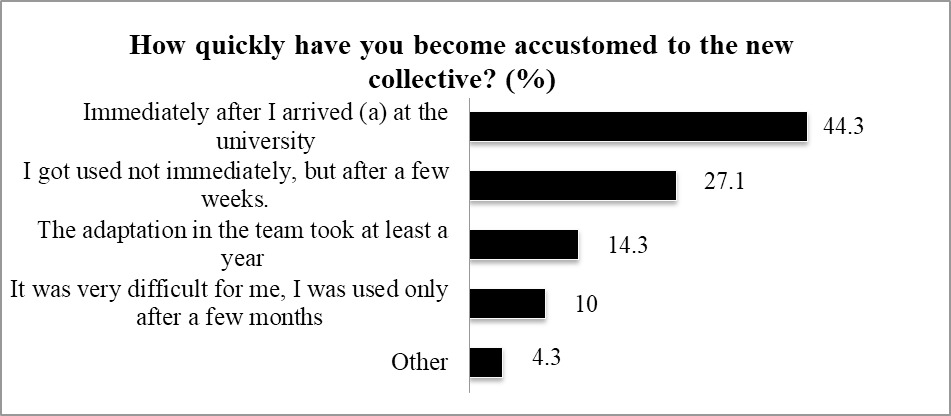 Most of the respondents (44.3%) quickly got used to the new collective; 27% took several weeks; every fourth — from a few months to a year. Still, we can note the high rate of adaptation in the new conditions of most visitors, if we take into account the economic difficulties they encounter upon arrival in Russia, especially since 3/4 of the students are in the middle category in terms of material support. They do not starve, but they can not afford everything. To improve their financial situation, half of the respondents earn extra money. The main types of sub-work: vocal creativity, management; work as a salesperson, an assistant at the firm, a doctor-trainee; in the hotel business, catering, etc.
In the course of theoretical research and analysis of empirical data, the necessary conditions for the successful adaptation of immigrant students to the educational environment of Moscow universities were determined.
They can be divided into two groups: subjective and objective.
Subjective include:
• high motivation of young immigrants to overcome the inevitable economic, social and socio-psychological difficulties that they face in a foreign country;
• readiness to join the culture, history and traditions of Russia, to become a part of this country, to observe its legislation, not to violate moral principles.
The objective are:
• The policy of the receiving immigrant state aimed at regulating migration flows;
• assistance to immigrants in obtaining registration documents in the «one-stop» mode;
• allocation of quotas for the training of foreign students in Russian universities;
• formation of a tolerant attitude towards newcomers.
Objective conditions include the purposeful organizational work of the university on the adaptation of foreign students to the educational environment, which includes:
• assistance in their social and domestic arrangement (providing the hostel with a training period);
• organization of elective classes to study the basics of Russian legislation, state structure, history and culture, and, if necessary, accelerated Russian language courses;
• Involvement of foreign students in extracurricular activities (the work of the Student Council, high schools, scientific activities, sports sections)
References
1. Becker I.L. Problems of adaptation of foreign students to the educational process of the Russian University / materials from magazine No. 4 (36) — 2015. URL:http://cyberleninka.ru/article/n/problemy-adaptatsii-inostrannyh-studentov-k-obrazovatelnomu-protsessu-rossiyskogo-vuza-na-primere-penzenskogo-gosudarstvennogo
2. The State Program of the Russian Federation «Development of Education» for 2013-2020-URL: http://window.edu.ru/resourse/823/76823
3. Smirnov A.A. Psychology of university adaptation: Textbook / AA Smirnov, NG Zhivaev. — Yaroslavl: YarSU, 2009. — 119s. — URL: http://www.lib.uniyar.ac.ru/edocs/iuni/20090520.pdf
Bakashvili G.D. 
Simple
This report is about philosophy of life: Simple. Nowadays people always think and say that life is not easy. But in this article it says that our life is Simple. You need to live and do what you like and then everything will be fine.
Keywords: Simple, life, philosophy.
Hello. My name is Gigi. Just Gigi. And today I want to tell you about philosophy of my life. There are reports about politics, science, culture, economic but let's talk about life. Imagine that we are sitting in the kitchen and speaking
Imagine? Let's star
Simple. What does it mean?
It seems to us that Life is a big system where everything is not clear. We always think and say that life is not easy.
But stop fooling yourself, stop living with illusions, Life is Simple.
Our life consists of pixels, tiny dots that make up our life. Every action, thought, idea- they are the pixels, which make up our life. This is the main idea of my philosophy: SIMPLE.
Why am I telling you about this Right now? Because I Just want to do it and You are just listening to me.
Growing up we think that we need to be serious. Influenced by society and stereotypes sometimes we don't commit those actions that actually we want to do. We always think about how we will be looked at, how we will be estimated.
Why can't we do what we want, why can't we say what we want. We Just want it.
Stop living in a cocoon. Stop living the life you live.
Who wants a cool car?
Which of you wants to go on a holiday?
That's just what you want. But You're just sitting here, wasting time.
Why don't people achieve what they want. Why do they always want to blame anybody? Why do they think that others should everything do for them? Because they're lazy,.
Just start with a clean sheet of paper. Look at the world as if you have just one day and that's it. Everyday Wake up with the thought that today is the last day. And you'll notice how simple and easy our life is. And most importantly this thought will change your world. Just what you need. It's Just. Every culture, religion has the expression: we'll live till Monday and we'll see what happens.
Start
You will think that philosophy: Simply — it is invented by me. But I will please you. No. This philosophy is followed by famous people from all over the world.
To word one of prominent people of our time. Nick Vujicic. He also follows this philosophy. Willpower, indomitable spirit, faith and optimism helped nick Vujicic to get a higher education, to become a famous preacher, an author of popular books, a happy father and a millionaire. And most importantly he understood it's very simple, moreover with his situation.
Speaking about me.
Why have I come to the fact that everything is Simple?
Once i sat down in the kitchen, turned on the music and began thinking. Why don't i have what I want. And I want a lot. My own Apartment, my own car, my unforgettable travels. Why don't I have it. And thinking about it I realized it was all in my head. I am always putting it off.
Fo my friends I'm a good friend. For my mother I am a good son. But for myself I'm the enemy. I set aside everything. I wanted to know a lot, to understand many things, to read, but I was too lazy One day, and it wasn't Monday. I decided to change my life.
Lets take last month. I Read 10 books, wrote a cool book that has found approval among many people. Moreover Two clothing brands have been created. 15,000 thousand rubles have been earned by me, not counting income from my brands. And realize my life has filled with a real meaning.
Do You know why? I just wanted it. My classmates used to say, Gigi, why are you doing this? And I answered, I want it. I just wanted it.
I am able not to sleep at night and do what I love and want to do.
What do I want to tell you?
You probably think what nonsense he's talking about. You'll probably be right. But It's so SIMPLE that you are afraid of it
Stop being afraid, start doing what you want.
As the little Prince said, Adults are very strange people.
And I wish you wouldn't strange…
Bejan V.I. 
Le phénomène Tanguy
Dans le film d'Etienne Chatiliez, le jeune « Tanguy» se complaît jusqu'à un âge avancé dans l'appartement cossu de ses parents. La réalité des jeunes hébergés chez leurs parents est un phénomène massif, mais hélas souvent bien plus sombre que dans le film.
Mots-clés: Phénomène, logement, responsabilité, solitude, adulescence.
Tanguy n'est plus une fiction, c'est un phénomène. L'histoire de l'homme de vingt-huit ans contée dans le film d'Étienne Chatiliez, en 2001, est devenue celle de millions de jeunes, 56,8% des garçons et 43,2% des filles. Ils sont 4,5 millions de majeurs à vivre chez leurs parents ou grands-parents, dont 1,3 million dépassent l'âge de vingt-cinq ans, selon le rapport publié par la Fondation Abbé-Pierre. La Fondation n'hésite pas à parler de «pénalisation des jeunes par la flambée des prix sur les marchés immobiliers» [3].
Parmi les jeunes hébergés, 18% sont par exemple au chômage. Et même lorsqu'ils occupent un emploi, leurs ressources ne permettent pas toujours d'accéder à un logement indépendant.
Les jeunes déjà sortis du système scolaire sont plus nombreux à vivre exclusivement chez leurs parents (65%) que les étudiants (50%). Des chiffres qui soulignent les difficultés des jeunes se lançant sur le marché de l'emploi: une majorité d'entre eux ne peut pas quitter le logement familial, faute d'avoir trouvé un emploi, ou a sans doute une situation professionnelle trop précaire pour accéder à un logement autonome. Ils ont des ressources limitées qui ne leur permettent pas de partir ou économisent pour préparer leur autonomie résidentielle [1].
Et parmi les jeunes qui disposent de leur propre logement (43%), l'autonomie financière n'est pas encore réelle pour beaucoup d'entre eux, car 29% d'entre eux se font aider par leurs parents pour payer leur loyer. Par ailleurs 2 jeunes sur 10 qui ont un logement autonome, continuent quand même à vivre en partie chez leurs parents pour trouver un surcroît de confort qu'ils n'ont pas chez eux.
Les «Tanguy» ces individus qui résident encore chez leurs parents après la fin de leurs études, sont frappés de plein fouet par la crise. En France, cette situation concernait 11,6% des 25 à 34 ans selon les dernières données d'Eurostat disponibles.
Selon l'étude de l'Insee, seulement 1 jeune sur 10 étudiants ou en emploi habitant chez ses parents ressent un sentiment de privation élevé et 7 jeunes sur 10 dans ces cas se déclarent satisfaits de leurs conditions de vie. « Résider avec ses parents n'est pas globalement vu comme une contrainte, car cela permet de bénéficier d'aides en nature, comme l'alimentation, les équipements, la voiture…», Et 88% des jeunes cohabitant avec leurs parents déclarent aussi bien s'entendre avec eux.
Ils retardent le départ du nid familial, parce qu'il s'y plaisent tout simplement. «Quand on est petit on a déjà le droit à des bouts de monde. Un adolescent peut en partie avoir le sentiment que sa chambre est chez lui», indique le sociologue de la famille François de Singly [2].
Certes les enfants restent dépendants mais ils ont acquis le sentiment d'avoir une certaine autonomie. Bref, un monde à part favorisé par une omniprésence des biens de consommation. Mais surtout une plus grande intimité liée à l'évolution des mœurs qui permet aux jeunes de vivre une seconde vie dans leur chambre. «Ils ne sont pas forcément pressés de partir, parce qu'au fond si l'ambiance familiale est bonne elle n'est pas traumatisante», justifie le sociologue, avant de préciser que pour avoir leur intimité, les générations passées n'avaient pas d'autre choix que de partir au plus vite.
L'origine de ce phénomène des Tanguy est concentré de diverses problématiques socioéconomiques et sociodémographiques prégnantes: crise du logement, plus grande difficulté des jeunes à s'insérer, financement des études, etc.
Mais avant tout, on constate que les jeunes ont une certaine peur de l'indépendance. En effet depuis quelques années, ils sont trop bien encadrés, que ce soit au sein de la famille ou dans le cadre scolaire. Arrivé à l'âge majeur, indépendance rime avec responsabilités. Ils ont peur d'assumer certaines responsabilités comme tenir un budget, ou simplement faire les courses, faire à manger, etc. L'enfant Tanguy a également peur de la solitude au sens propre du terme. En restant chez ses parents, il sait qu'il n'aura pas à affronter cette peur car il sait que l'amour de ses parents est comme inconditionnelle. Cette peur est aussi présente au niveau des responsabilités; c'est d'une certaine manière la peur de grandir qui l'empêche d'avancer et qui le conforte ainsi dans sa peur. C'est un cercle vicieux. Ces raisons expliquent en grande partie pourquoi l'adulte enfantin c'est-à-dire l'adulescent préfère rester chez ses parents au lieu de devenir indépendant et autonome [2].
Selon le psychanalyste Tony Anatrella « l'adulescence est le prolongement de l'adolescence en dépit de l'entrée dans l'âge adulte». Ainsi, ces adultes sont des jeunes gens qui, en refusant de grandir, conservent les avantages des trois «états»: enfant, adolescent, adulte. Ils peuvent donc s'adapter à toute situation: retomber en enfance, jouer à des jeux vidéos ou assumer des responsabilités au travail [2].
Ce phénomène se fait ressentir dans d'autres domaines: de social au début, il est devenu économique car l'adulescence représente un marché lucratif. D'où la création de produits s'inspirant de l'enfance, utilisant des formes et des couleurs ludiques. Par exemple, des automobiles telles que Twingo, Smart, New Beetle rappellent des jouets; l'adulescent ose la couleur dans l'habillement et se déplace plus souvent en rollers ou en trottinette. Il est également gros consommateur de toutes les nouvelles technologies: il aime les jeux vidéos ou en réseau et les sites Internet dédiés à ses chanteurs préférés et aux dessins animés de son enfance. Il fréquente régulièrement les raves parties et les parcs d'attractions. Enfin, il prend beaucoup plus soin de lui. Comme l'affirme l'article paru en juin 2002 dans le Monde, «les interventions esthétiques chez les hommes jeunes ont augmenté de 400% en quinze ans».
Mais le phénomène Tanguy n'existe pas qu'en France. Ces jeunes qui n'arrivent toujours pas à quitter leur cocon familial, il en existe de partout. On les appelle juste différemment. Aux États-Unis, on les appelle les Boomerangers, en référence à la génération boomerang, partie du foyer pour y revenir, poussée par la crise. Au Japon, on les appelle les Parasaito Shinguru ou célibataires parasites. Ce qui a le mérite d'être clair quant au jugement que la société porte sur le phénomène… En Allemagne, on parle de Nesthoker. Littéralement pilleur de nids, le nom donné aux oiseaux qui naissent nus et aveugles.
La réalité paru le dernier temps contraste avec l'image du Tanguy: ce sont les parents qui dépendent de leurs enfants. En milieu populaire par exemple, certains Tanguy qui habitent encore à 35 ans chez leurs parents, tiennent le rôle de maîtresse de maison, ils s'occupent de leurs parents qui sont au chômage, ou maladies.
Bibliographie
1. https://www.humanite.fr/tanguy-nest-pas-une-fiction-cest-un-phenomene-591866
2. http://psychologieclinique.over-blog.com/
3. La face cachée des «Tanguy». Les jeunes en hébergement contraint chez leurs parents http://www.fondation-abbe-pierre.fr/documents/pdf/la_face_cachee_des_tanguy.pdf
Volnykh K.S. 
Democracy as the power of the minority, or the liberalization of consciousness
The article describes the problem of creating and exaggerating problematic issues that are unnecessary for society globally. Without the use of adequate criticism to their essence, prior to the question. The problem is considered on the example of the real situation in the country in which the problem looks the most contrast. The urgency of the problem lies in the excessive desire of people to go against the system and show themselves without thinking about the consequences. To break down what was built and conceived by people with strategic thinking, or just historically it turned out, that in turn requires much more time and effort.