Foreword
This is an adventure book. It's all about the sea, ships, wild animals, pirates and Flying Dutchmen. And about friendship, and home. Because home is the place we go back to with our friends after all our sojourns.
But I should warn you straight off that this book is a bit unusual. You see, I wanted to please all my readers at the same time, both big and small. Adults usually get bored reading books out loud to children. So I decided to help them, by writing a book in which adults will find something to laugh at too. But it's hard to please adults; what's more, they like long, educated words.
So I wish to beg the forgiveness of those youngest readers among you for using so many complicated words that you don't know. But there are explanations for most of the hard words at the bottom of the page. Those of you who want to read them can read them; those of you who don't, don't have to.
And now, full speed ahead!
Chapter 1. Moosie
Moosie had always lived in the house. Mike didn't remember how he got there or where he came from. Moosie himself said he came from the North.
"And where is the North?" little Mike would ask.
"It's that way!" Moosie said, pointing behind him with his paw, so that north was always behind his back.
Moosie had long soft horns. Moosie called them his "handlers'. Mike would explain to him that they're not "handlers', but "antlers', but Moosie would answer that other animals may have antlers, but he had "handlers'. He had soft little hooves at the end of his legs. Moose usually have four hooves, but Moosie had only two, so he walked on his hind legs. His front legs had short paws that barely reached around his belly. And he had a long, soft nose. Moosie loved to stick his nose about and smell everything around him.
Moosie had white fur, especially in his younger days. He got a little greyer as he got older, but when he talked about himself he still said "I'm little white Moosie", even though he was hardly little; together with his "handlers', he reached Mike's nose.
Moosie wore a blue hooded jacket that hardly reached the middle of his belly. The jacket had white fur on the cuffs and bottom, and Moosie was quite fond of it. He almost never took it off, except when he took a bath. And Moosie didn't like to take baths. He was afraid that he would get wet all through and never dry off. So he only took a bath once a month, and even then he didn't dip himself all the way in the water, but rubbed himself down with a soft white sponge using baby shampoo. And then he would spend all day drying off on the radiator, wrapped in a clean bath towel.
Generally speaking, Moosie was nice fellow, but a worrywart. He was always worrying about catching cold and getting sick. As soon as it started to rain outside, Moosie would crawl under a blanket and say that he would not go out, since his "handlers' might catch a chill and his hooves would get all wet. Mike was used to him acting like that and he never asked Moosie to go out when it was raining.
Mike and Moosie were very good friends and never quarrelled. Well, almost never. Whenever Moosie got upset with Mike, he would puff up his cheeks, climb on the sofa and hide under a throw blanket, horns and all. Mike would go to him right away to apologize, saying: "Moosie please forgive me!" And Moosie would stick his nose out from under the blanket, thrust out his lower lip and grumble "You hurt my feelings — me, so little and so white! And I'm not Moosie, I'm Theodorus Moosovich."
That was is full name. But Moosie almost never used it. That is, he kept it in reserve for when somebody hurt his feelings, or when he felt like showing off. How he ever got that name Mike never knew. What's more, Moosie couldn't properly explain how he got it either, and would say "That's my name, that's all."
Moosie ate only lichen. That is, he ate everything — vegetables and fruit, but he called it all lichen. For example, apples were "apple lichen"; carrots were "carrot lichen". And when he saw a melon on the table, he cried "That's lichen. Melon lichen!" Then he would add "Only Moosie eats lichen, so it's for me!" But Moosie wasn't greedy; he always shared a piece of "lichen" with Mike, and sometimes he gave him two or three pieces.
Mike wondered why Moosie called all the food lichen. After all, reindeer eat lichen, and Moosie wasn't a reindeer, he was a moose. And his horns were almost like the kind a real moose has.
One day, Mike decided to get Moosie to tell him what he did before he came to live at the house. That evening, after Mike washed up and brushed his teeth, Moosie went to bed with him, as usual.
"Moosie, tell me a story", Mike asked.
"I don't know any stories", Moosie said.
"Then tell me something about yourself", Mike suggested. "What did you do before you came here?"
"I migrated", Moosie said, rather unhelpfully.
"And where did you migrate?" Mike asked.
That way, up North", with his paw, Moosie pointed behind himself, at the closet.
"And what was there around there up North?" Mike pressed on.
"Up North there was the tundra", Moosie said, adding "I migrated around the tundra!"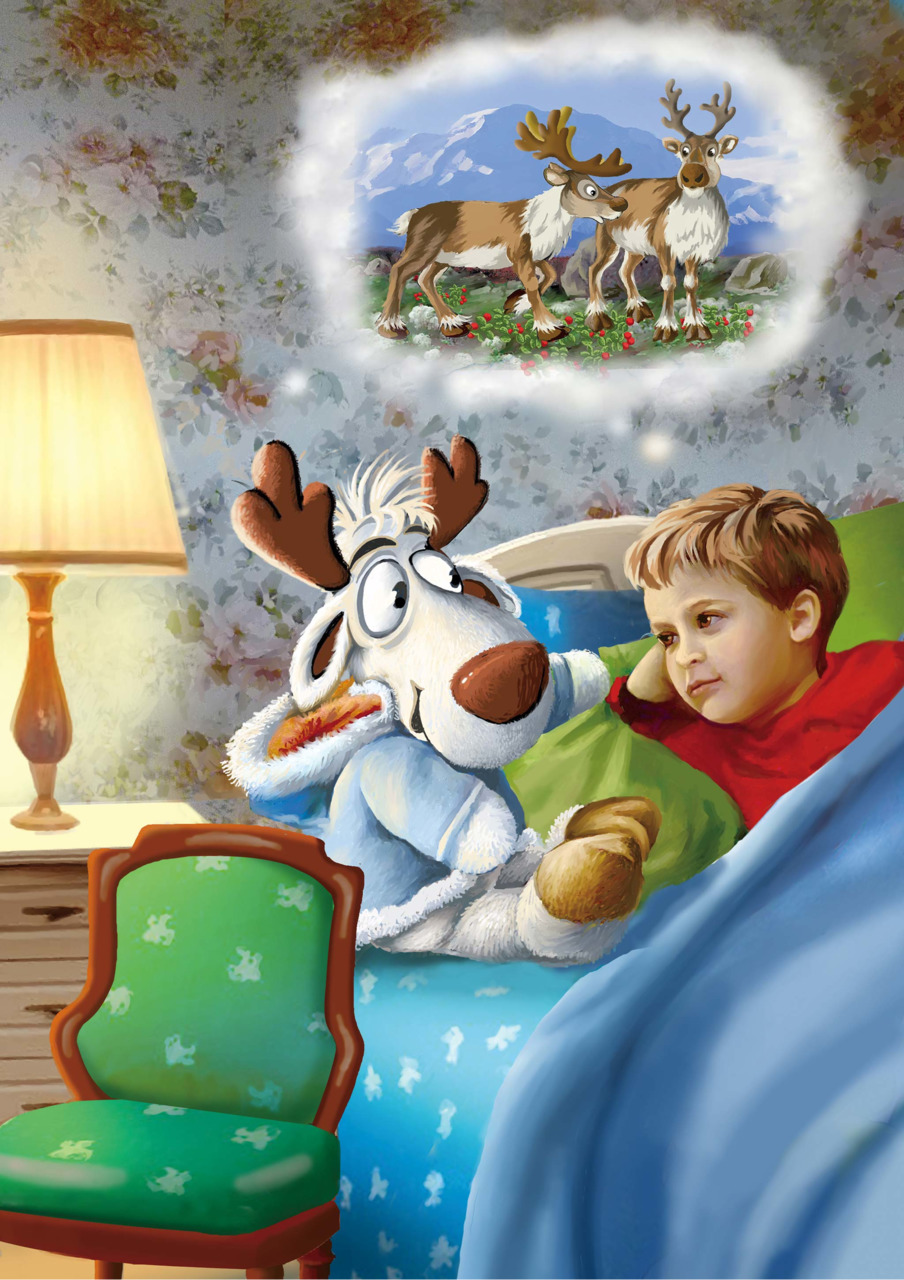 "And what did you do there?" Mike asked.
"I dug up lichen", Moosie explained.
"And how did you dig it up?" Mike asked
"I dug under the snow with my hoof, pushed the snow away and ate up the lichen under it".
"Did you migrate by yourself?"
"No", Moosie said, "I was with a pack."
"A pack of moose?"
"No, a pack of reindeer."
And you were Moosie then?"
"No", Moosie said, "I was a reindeer then."
This surprised Mike. "Moosie, how did you change from a reindeer into a moose?
"I didn't change", Moosie said, "I just grew up and became Moosie."
Mike thought this over and then asked "So, are you going to change into somebody else?"
Moosie sat silent for a moment.
"No", he said, "probably not."
Mike thought about this. He thought about whether one type of animal could really turn into another type. He wondered if Moosie might keep growing and become an elephant. How big would he be, and how could we put him up here? And then he imagined Moosie digging his soft hooves into the sharp crusty ice, getting to the lichen, wandering around the tundra in the Arctic night and not being afraid of his "handlers" catching a chill. And then he decided to think about who Moosie's mommy and daddy were. But he never quite did, because he fell asleep.
Chapter 2. Camel
On the very day before Christmas, a camel showed up at the house. He was sitting on the floor under the Christmas tree and attentively scrutinizing the room with his tiny eyes under his frizzy brows. He sported a small knit cap, with clumps of ruddy fur sticking out from underneath.
Mike came into the living room. It was dark; the only light came from the string of lights on the Christmas tree, and the star on top.
"Mommy, daddy!" Mike cried. "Come quick, look at what Santa Claus brought me!"
But mommy and daddy were in no hurry to come to the living room. Instead, the camel started to talk. His voice was singsong and nasally, as if he was memorizing what he was saying.
"First of all, young man, I'm not a 'what', but a 'who'".
"Secondly, by your leave I shall blandly ignore your speculationPay no attention to your idea regarding Santa Claus".
"Now then, allow me to introduce myself: Dromedary Camel, which would signify a 'one-humped camel'. You may call me Dromedary".
Mike stood there popeyed with his mouth hanging open. He understood almost nothing of what the Camel had said to him.
"Your name is Dreama what? Mike asked.
"Hmpf…," the Camel sniffed. "Young man, I can see that you are as of yet not conversant with complex lexical constructionsFamiliar with difficult words. Hence, I am obliged to repeat that my name is Dromedary Camel".
"Camel", Mike said, "I didn't quite understand everything you said. Can I just call you "Dreamer"?
The camel put all four of his hooves in front of himself, put his head on them and thought for a moment.
"On one hand", Camel began, "addressing me as 'Dreamer' smacks of a certain familiarityBeing too friendly when we don't know each other very well.. On the other hand, if one wishes to remain in a home and to make a favourable impressionMake sure everybody likes you, it won't do to be too fastidiousFussy in such matters. Hence, I have no objection to you calling me 'Dreamer', young man".
Mike was beginning to understand some of what Camel was saying.
"And I'm Mike!" Mike said. "You can call me Mike."
"Pleased to make your acquaintance, Mike", Dreamer said, "however, allow me to observe that the use of nicknames is somewhat questionable in a formal relationshipYou shouldn't do it with somebody you don't know well".
"You don't need to be questionable with me", Mike said. "I'm still a kid".
"Very well", Camel said. "We shall refer to each other on intimate terms, even though such forms of address presuppose an amicable relationshipMeans that we think we're friends between the parties involved".
"There's no need for us to be amicable either. We can be friends instead", Mike said. "We're all friends here in this house. Let's be friends!"
Camel considered this briefly. "I am afraid that you're not taking my meaning precisely, young man.
"However, although a proposal such as yours may be somewhat prematureIt seems too early, it is nonetheless quite gratifyingIt makes me happy. 11 Beginning for a lonely camel. Therefore", Camel said, raising his head to Mike, "I am pleased to accept it. And allow me to mark the commencement11 of our friendship by referring to you as 'my young friend'".
"You can call me that, if you want to," Mike said. "It's okay with me".
Mike took Camel in his arms and sat him on the sofa.
"Dreamer," said Mike, "why do you talk so funny?"
"And what is it that you find humorous about my speech, my young friend?" Camel asked.
"Well, it's not easy to understand what you say. Can you say things a little simpler?"
Once again Camel stopped to think this over.
"I shall try," he said, "but I can't promise".
Mike wanted to know as much as he could about his new acquaintance.
"Where do you come from, Dreamer?" Mike asked.
"I come from Africa, from the desert".
"And what did you do there?"
"I once worked in a caravan as a camel."
"And what kind of work did you do as a camel?"
"I busted my hump carrying lots of heavy things across the desert", Camel said.
"And where did you learn to talk like that?"
"I subsequently studied for a long time and completed the curriculum in applied linguisticsThe study of how language is used. at the University of AlexandriaThe biggest University in Africa, where I graduated with a first."
"With a first what?" Mike asked.
"First honours," Camel said patiently. "Summa cum laudeWith highest honours (Latin)."
"Ah!" Mike said. "So you went to summer school."
"My young friend", Camel said, "it is no simple thing to conduct a conversation with you, given your primitive command of the language. Furthermore, I am quite tired from my journey. Would you happen to have some saksaul sprigs for your new friend?"
"What's six-all?" Mike asked.
"Not six-all, saksaul", the camel corrected. "It is a plant of the Amaranthaceae family, a shrub or small tree with forked branches and segmented shoots, which camels use for food."
Mike thought about this and said:
"It sounds like you're hungry, Dreamer. But we only have one tree in the house, and that's the Christmas tree, and you can't eat that now. There are ornaments on it. And we don't have any saksaul, either."
"Perhaps you have some camel thorn in the house?" asked Camel.
"No", Mike said sadly. "We only have thorns on the cactus".
"Very well", Camel sighed. "Bring on the cactus. One must adapt one's self to a new environment", as DarwinA famous scientist that lived 150 years ago. said.
Chapter 3. How Camel Met Moosie
One morning Mike started off on a walk, while Camel stayed home. Camel fussed around the room, pacing back and forth, and just couldn't get comfortable. Sometimes he stopped, sat down on the rug, stretched out his hooves in front of himself and laid his head on them. Then he would stretch out one hoof from the bunch, scratch behind his ear, sigh deeply, grunt and let out a sustained "Hmmmmmmm...pf!" And after Camel let out his fifth "hmpf!" and scratched himself behind his ear for the third time, a rustling noise came from behind the arm chair. A large plaid throw blanket moved on the floor and Moosie popped out from underneath. He had just woken up and he was trying to scratch his nose with his short little paws, but without much success. He thought the matter over, and began rubbing his nose on the leg of the arm chair, when all at once he saw Camel. The two animals stared at each other.
"Who are you?" Moosie was the first to speak. Camel took his time carefully examining Moosie, at length letting loose his usual "hmpf" and articulating:
"I see that I have not yet made the acquaintance of all the residents of this household.I still don't know everybody that lives here. It would seem that other species of cloven hoofed fauna are harbouringLiving here."
"What did you call my hoofs?" Moosie asked.
"I said nothing about your hoofs", Camel answered, "I merely observed that there are various herbivorousPlant-eating creatures of the cloven hoofed order residing in this house, the existence of which I was not previously cognizantaware."
"Yes", Moosie said, "I live here, but how did you get here?"
"Let us relegate as parentheticalnot worry about because it's not important the actual facts of my arrival in this house and maintain the hypothesisassume that it's true of Christmas and Santa Claus", Camel said.
"Ah!" said Moosie, calming down. "So Santa Claus brought you. So where's Relegate, his parents and Hypo? Did they all come together with you?"
Camel wiggled his ears, raised his brows and gave Moosie a disapproving look.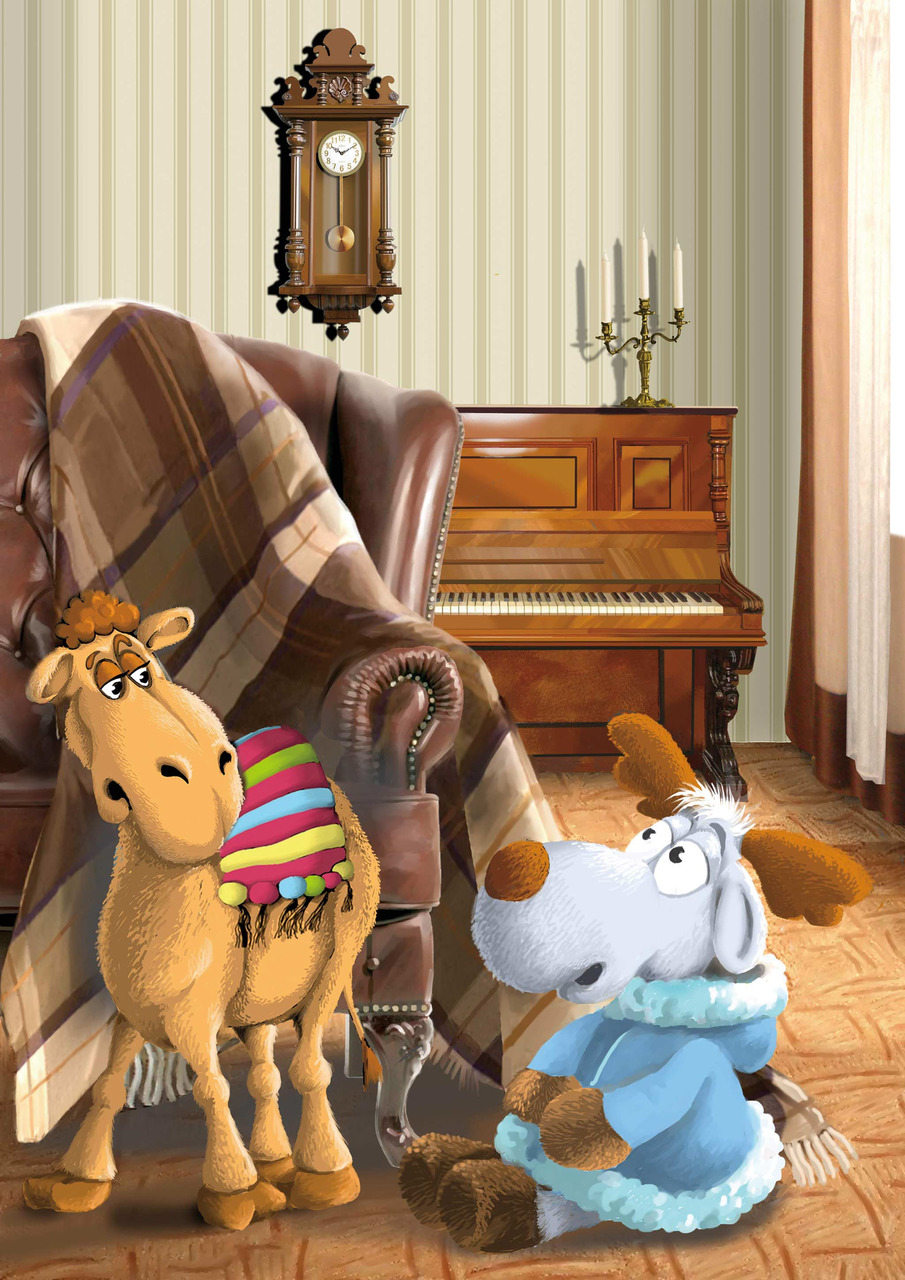 "Yeeees, I see!" he drawled, "Lovely company we have here, I must say!"
"Yeah? Where is this lovely company?" Moosie asked. But Camel didn't answer him. Then Moosie asked:
"So it's Christmas already?"
"Allow me to inform you", Camel said, "I beg your pardon, I don't have the pleasure of your acquaintance, and hence I do not know your name — that Christmas arrived exactly two days, eleven hours and twenty-five minutes ago. And you, I take it, have been slumbering?Asleep."
"Slobbering?"Moosie asked, wiping his mouth.
"I merely observed that you were asleep", Camel answered.
"Yeah", Moosie said, "I fell asleep for a while. I wanted to sit in the arm chair, but I fell behind the back and went to sleep. And nobody woke me up. And now I missed Christmas and everything!"
"No great loss", Camel said. "Another year over, a new one just begun. Life goes on, everything changes! "Sic transit Gloria mundi', which translated from the Latin means "thus passeth earthly glory'.
Moosie wanted to say something else, but he couldn't get it out, so he asked:
"So what's your name?"
Camel slowly raised his brows at Moosie. "I do beg your pardon, I have forgotten to introduce myself", Camel said, my name is Camel Dromedary, although I have recently acquired the new name "Dreamer'. Allow me to inquire as to your name."
"My name is Moosie", Moosie said, "I'm little white Moosie".
Camel's eyebrows rose even higher. He stood up, walked around Moosie, carefully scrutinizing him from horns to hoofs, and then back the other way. Then he unhurriedly returned to his former position, sat on the rug and said:
"The ancient Roman philosopher Seneca once observed "Errare humanum est', which in Latin means "To err is human', although in that particular case he was not alluding to moose. Possibly, I can now expand the application of that statement: "Errare mammali est', which means "To err is mammalian'Mammalian — related to mammals, animals that feed their young with milk like camels, horses, moose and many others do.. A silence descended on the room.
"Dreamer", Moosie said after some moments, "do you mind if I sniff you?"
"Why would you do that?" Camel asked. "Allow me to be more specific: to what purpose?"
"Well, so I can get to know you better and we can be friends."
"I already have one friend in this house", Camel said, "Nevertheless, if you wish, by all means sniff as much as you like."
Moosie stuck his big nose into Camel's face and carefully sniffed him. Camel couldn't resist and started sniffing Moosie too. Then Moosie happily snuffed right in Camel's nose to show he had finished sniffing him.
"There", Moosie said, "we've sniffed each other all over. That means that now we're friends!"
"Right!" Dreamer offered, "Right on the nose, I dare say!"
Chapter 4. Building the Ship
Mike climbed up on the sofa and said:
"We're taking a trip around the world!"
"And what about me?" Moosie asked. "Will I have to stay home all alone?"
"No", Mike said, "We'll build a ship and we'll sail on it all together. Me, you and Dreamer."
"You wish to involve me in a trip around the world on a ship?" Camel asked. "But let me inform you that the camel is a terrestrial animal. We don't swim and we have no affinityCan't do it. for it. Sometimes they call me a ship, but they mean a ship of the desert, as opposed to a typical oceangoing vessel."
"Don't worry, Dreamer," Mike said "we'll go on a ship. You won't have to swim…"
"Until such time as we suffer a shipwreck", Camel concluded to Mike, "an intriguing prospect, don't you agree? In any case," he continued, "I am not refusing, I am merely giving a timely warning, and I strongly urge you to take it into consideration.Think about it."
"So you agree, Dreamer? Hooray!" Mike cried.
"And what about me" Moosie said. "I can't swim either. I could fall in the water, get waterlogged and drown!"
"It's okay, Moosie, don't worry, I'll save you, I promise!" Mike said.
"Moosie will have to have his horns fastened to an unsinkable object, such as a life saver. It will improve his buoyancyAbility to float," Camel added.
"No", Moosie said, "that's a bad idea. If I fall in the water with a life saver on my horns, my nose will be underwater, and I'll drown."
"It would appear that our antlered friend is showing a germ of intelligence,A little bit of intelligence." murmured Camel.
"Germs? What germs? You see germs on me?" Moosie said frightened, turning his head around and trying to look at himself from every angle.
"He means that you've started thinking smarter," Mike said for Camel, "but let's get to work on the ship!"
"But what are we going to build the ship out of?" Moosie asked.
"Out of the sofa," Mike answered quickly, "and we'll make masts out of hockey sticks. We'll have a sailing ship!"
"While you are planning the construction of the ship, it would behove you to carefully consider the material side," Camel looked attentively at Mike and added "we must know what it will consist of."
"Of course," Mike said. "I've got a big book about sailing ships, and it's got everything in it." Mike ran to his room and brought the book. The book really was quite big. Mike put the book on the carpet and started flipping through it. Moosie and Camel moved closer to him.
"Here it is!" Mike cried. The chapter on "Types of Sailing Ships'. What kind of ship will we have?"
"Seeing as we have only two hockey sticks," Dreamer said, "it will have to be a two-master. So what is left to determine is whether it will be a schooner, a brig or a brigantine."
"And how do we find out?" Mike asked.
"Look carefully in the book, my young friend," said Camel, "it says here," Dreamer pointed at the page with his hoof, "that a brig is square-rigged, a schooner is gaff-rigged and a brigantine is mixed"Square rigged' means that the spars make a right angle with the masts. "Gaff rigged' means the main sail angles away from the main mast., which is to say that it has various types of rigging."
Mike lay on the carpet and began examining the pictures attentively. Then he got up and stuck the two hockey sticks into the sofa with the blades facing up, one at the sofa's "stern" and the other at its "bow".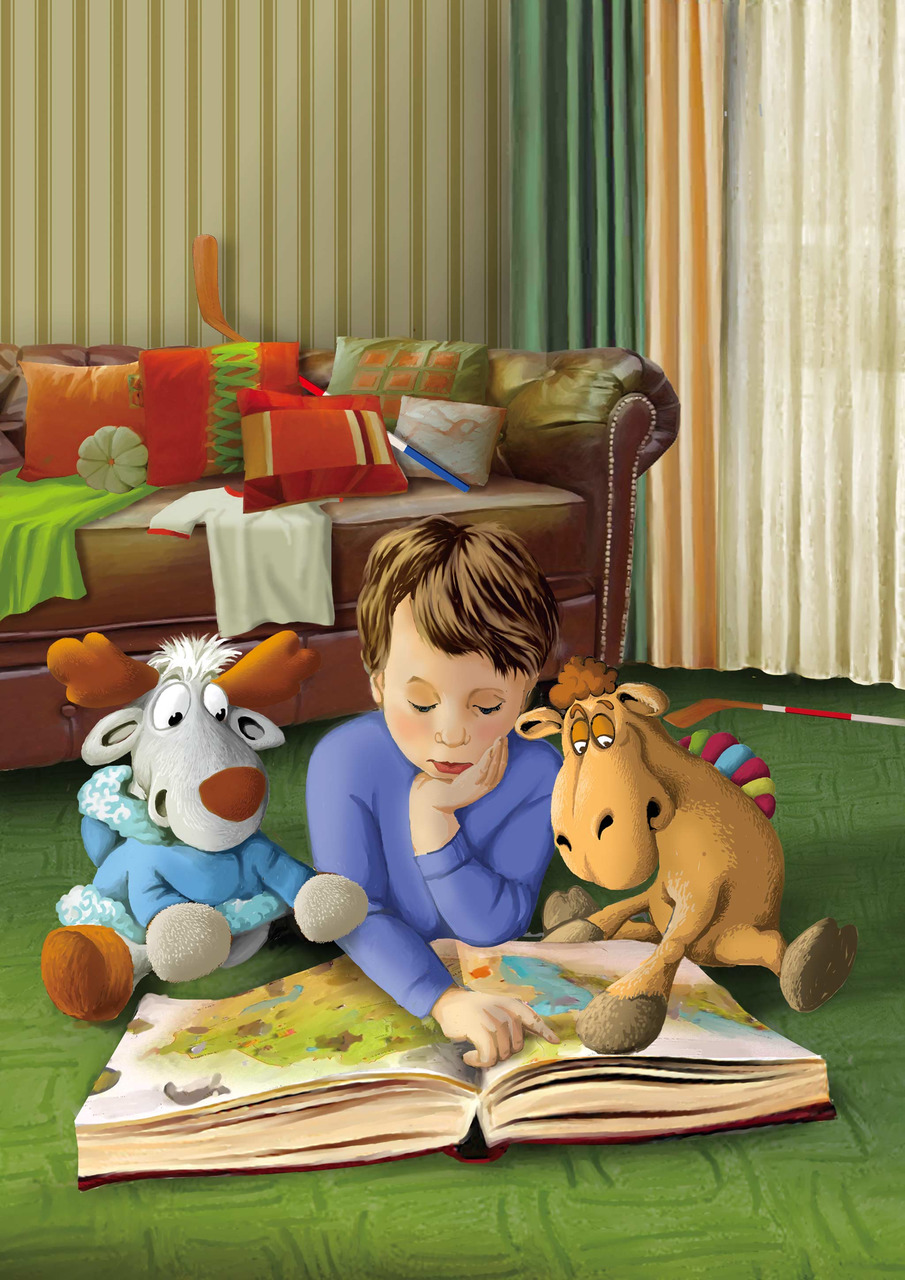 "I can hang a t-shirt on each stick," Mike said, "so then it will be square rigged. So the ship will be a brig!"
Dreamer looked at the sticks sticking out of the sofa and shook his head.
"I would advise you, my young friend," he said, "to use some other material for the masts. Hockey sticks will hardly hold square rigging.Where the sails are square shaped, or rectangular shaped."
"But what else can we put there instead?"
"I have an idea," Dreamer said, "but I am not prepared to share responsibility for the consequences of its implementation.I don't want to be blamed if there's a problem."
Moosie, who by this point had lost the thread of the conversation, raised his head and asked:
"I don't understand. What aren't you prepared to share with who?
Camel turned his head to Moosie and said:
"My antlered friend, allow me to give you a small piece of advice, so that you will — how can I put it gently? — appear… a bit smarter.
"What advice?"
"If you don't understand some word, then don't ask display your ignorance by asking naive questions. Just say 'Uh-huh'. I will try to explain to you."
"And what if I don't understand two or three words?" Moosie asked next.
"Then say 'uh-huh uh-huh' or uh-huh uh-huh uh-huh!" Dreamer explained. "Agreed?"
"Uh-huh," Moosie said.
"So what don't you understand now?" Camel inquired.
"I understand everything," Moosie said, "I just said "uh-huh' because I understand everything.
Camel sighed deeply, and then continued:
Very well, I propose the use of the mop that we use to wash the floors as the foremast, and for the mainmast the big broom we use for sweeping. But if the application of these measures results in an altercationArgument with your parents, I would not wish to suffer any complaints and accusations."
"Uh-huh," said Moosie.
"I understand," Mike added, "don't worry, nobody will blame you!"
"I merely wished to say," Dreamer concluded, "that all must be shipshape before we cast off."
"Of course," Mike said, "We'll settle everything ashore, before we're on the high seas."
Chapter 5. Captain Wolf
The ship was ready. It had masts, yardarmsA yardarm is a horizontal pole on a mast that the sail hangs from., sails and two anchors made out of shoehorns. Mike fitted out two cabins inside the sofa — crew quarters and the galley. Then he built a captain's bridge and set up the helm there, made from the front wheel of his scooter, which he managed to unscrew.
Food and water were loaded aboard: a jerry can, pots and pans, a tea kettle, salt, sugar, macaroni and bags of rice and flour. Mike brought in lots of canned food — potted meat from his mother's supplies — a whole twenty cans. He brought along a Swiss Army knife, a compass, matches, a flashlight and a box of batteries too. It would be enough for a long time.
But Mike paid particular attention to weapons. To defend the ship, he requisitioned two cannons from his set of tin soldiers, three antique pistols, a short sword, a sabre, a dagger and a hammer for pounding meat.
All that remained was dividing responsibilities on the ship and setting sail.
"I'll be the captain!" Mike said, and after thinking about it, added "Does anybody else want to be captain?"
Moosie clearly didn't want to be. However, once more Camel complicated matters.
"My young friend," Dreamer said, "The responsibilities of captain of a seagoing vessel require specialized knowledge and the mastery of specific skills. Allow me to inquire — have you ever studied geography, piloting or navigation, either of the terrestrial or celestial variety?Study of the earth, and how to know where you are by looking at the earth or the sky. Do you know how to take coordinates from the sun and stars on the high seas using a sextant and an astrolabe?Tools you use to check the position of the sun, moon and stars. Do you know how to tackHow to maneuver sails on a ship to best use the force of the wind. and how to raise sails? How to…"
"Stop, enough!" Mike answered, "I don't know how to do any of that yet. Do you?"
"Well," Camel said, "I have a certain amount of theoretical knowledge. But I have no practical experience. Hence, I would not be in a position to take such a responsibility upon myself."
"So you can't!" concluded Mike. "So what are we going to do? Maybe we won't go on a cruise around the world after all."
"My young friend," Dreamer answered, "first of all, I would advise you to find an experienced captain to take command of the vessel."
Mike said nothing. The idea of finding another commander was clearly not to his liking. But finally he said:
"But where will we find a captain like that?"
"I have already given the matter some thought and I have located suitable material," Camel replied.
"Material? What do you mean? You want to make a captain?" Mike said, surprised.
"No, no," Creamer repeated, "I mean somebody that could be captain, if nobody has any objections."
"And where is this captain of yours?" Mike asked. "We've got no captains here in the house!"
"You are sorely mistaken, my young friend!" Camel replied. "In my investigations of our surroundings, I came across a cupboard. Upon examining its contents, I encountered someone that fully satisfies the requirements of our search."
"Stop showing off how smart you are!" Mike said angrily. "Just tell me — who did you find?"
Dreamer stuck out his lower lip and said nothing. Then he chewed on some invisible saksaul and continued:
"I am not showing off, as you put it, my young friend, I am simply laying out the facts of the situation. If you object…"
Mike started getting angry again, but all of a sudden Moosie spoke up.
"Mike," Moosie said in a frightened voice, "I think I know who he found! But if it's HIM, then I'm not sailing with you at all!"
"So who is he?" Mike asked.
Moosie hid himself down in the berthing behind the sofa pillow, stuck out his nose and whispered:
"He's a WOLF!"
"Who?" Mike asked again. "A Wolf?"
"Yes, it's a wolf," Dreamer said, "an old Sea Wolf. Just the person we all need now."
"Not me! I don't need a wolf," Moosie cried, "I don't want a wolf, I don't like wolves, I'm afraid of wolves, I'm little white Moosie and the wolf will eat me all up!"
"Calm down!" Mike said. "I remember, he's an old wolf that lives in the cupboard. You're the one who asked me to stick the wolf in the cupboard, Moosie."
"He would have eaten me a long time ago, because I'm little white Moosie!" Moosie snivelled.
"Don't be silly," Mike said. "Wolves are dangerous only when they're hungry. But our wolf is never dangerous, because he's a sea wolf. And sea wolves don't eat land moose. I'll introduce you two now."
Mike went out to the hallway. The cupboard door creaked, a box grated, and then a hoarse, raspy growl was heard:
"Ten thousand sharks and five points to port! I've been sniffing mothballsLittle balls with a strong smell that people put in cupboards to keep moths away. enough for a hundred thousand years to go. Now all moths will die when they hear my name."
Mike brought Wolf into the room. He was wearing a short green frock coat with shiny buttons and a white sash over his shoulder with a sword hanging from it. Wolf had a black cocked hat on his head and a big curved calabash pipe in his left hand.
When he saw the ship, Wolf cried in a hoarse voice:
"I'll be deep sixed! What manner of old hulk is that? I swear by Davy JonesThe sailors' name for the devil. that she'll sink before she leaves the harbour!"
"Allow me to observe, my dear sir," said Camel, "that such expressions are inadmissible in polite society. This ship was built by ourselves, the genial crew. In making such rude observations, you offend all here."
Wolf opened his muzzle, then closed it, then opened it again and said "eeeeh". But since words didn't come to him, he had to close it again. Mike said, helping Wolf out:
"Don't swear, Wolf, just tell us what we need to do!"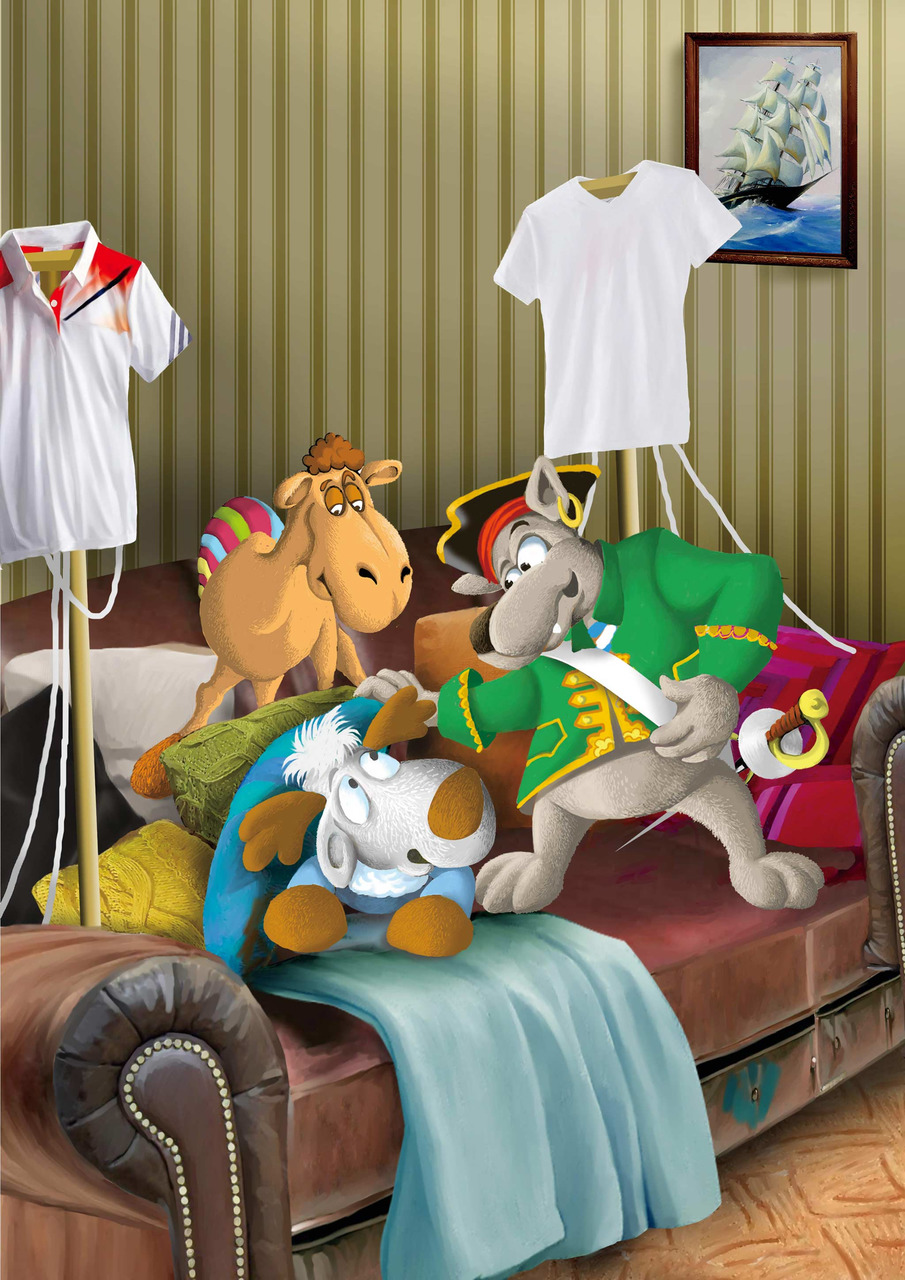 In a half hour, the ship took on a completely new look. The masts changed places. The high one became the main mast and was moved astern, while the low one became the foremast and was moved forward. The helm was moved back, closer to the stern. White ropes, which Wolf called sheets, braces and linesDifferent types of rigging on a ship., were run from the sails. And the anchor was fastened to a real anchor chain made from Mike's father's watch chain.
Wolf carefully inspected the ship, looking at every corner. He sucked on his pipe and growled "Double down on that snatch block!A device to pull things up using ropes that can be opened on the side." It looked as if the inspection would wrap up peacefully. But then Wolf opened up the pillow hatch, looked in the hold, pulled his pipe from his mouth and rumbled "Shiver me timbers! What's a great big horned beast doing on my ship?"
Terrified, Moosie stuck his nose out from the hold, and whispered "I'm not a beast, I'm Moosie".
Wolf barked:
"Who? Squids in me bilge! Speak up, mate! I can't hear you!"
"Moose, I'm a m-m-moose," Moosie murmured almost inaudibly.
Wolf dropped his pipe from his paw, rolled his eyes and guffawed:
"A moose? You're a moose? Well, skewer me with a swordfish! This is a moose? Ha ha ha!"
"What do you find so humorous about our horned friend?" Camel stepped up on Moosie's behalf. "He's a typical example of a young moose. What is it about him that you find unsatisfactory?"
But Wolf couldn't answer Camel because he was still laughing. Finally he got tired and dropped on the deck. "And what manner of beast are you to be sailing the high seas?"
"I'm little white Moosie," Moosie said, shivering from fright.
Stick a horn on me nose and call me a narwhal! I know what a REAL moose looks like. Before I went to sea, I lived with my pack in the forest. I saw moose all the time. They were big and brave, and dangerous in a fight! Even we wolves respected them. But this beast looks more like a horned rabbit than any moose I ever saw!"
Moosie's horns drooped. "I'm little white Moosie", he repeated, barely audible.
Dreamer came to Moosie's defence.
"Honourable captain," he began unhurriedly, "it may very well be that our antlered friend is not prototypical of his breed. However, that does not give you the right to deride and abuse his animalistic dignity."