Welcome.
Are you fed up with filling out tables, fed up with plans without effect, without results and without success? Your planner does not work as it should, your dreams crash against the wall, and you carry over unrealized resolutions to the next day, the next year. You are standing still. You explain yourself with a lack of energy, inspiration and many other excuses: «I'll do it tomorrow, after all, tomorrow is also a day.» And after a year, you make a great new plan again, and again nothing comes of it. Nothing, or not much at best. If you want to move on, change your life for the better, I have a great idea for you, good advice from personal experience.
My planner, my work, it is for people who have problems with achieving their goals and intentions. This is the best motivation that will shake you and make you move forward. I am glad because I know that you have come to the right place by choosing my planner, which is easy, simple and friendly, and above all, effective. You fill in two fields quickly, and in later (it only takes a second each day) you just enter the correct numbers that document how much you have done with your schedule on that day.
The «10 DAYS» planner is designed to get you to your destination from day one! You don't have to fill in or plan for long hours, analyze how to achieve something, or convince yourself of the benefits of achieving your goals. You have to keep motivating yourself. You will not have to look for profits from the completed task, they will come to you. With my planner, you will start working from day one, instead of writing what your achievements will be. You just have two options: do or not do the assigned task. There is a third option: do more or less.
My planner realistically shows what you want to achieve, makes you see your achievements on a regular basis. It influences your right attitude and you can achieve goals without stress. I don't know for sure whether my planner will work as perfectly for you as it is for me. But remember that I am a professional analyst and I have analyzed everything both in theory and in practice, which is why I know it is perfect for achieving goals and achieving success. This planner is my latest work, which I created after listing all the problems standing in the way of achieving the goal.
In my book planner you can design 510 tasks on 170 pages. Each side is the same. These can be completely arbitrary tasks, such as sports, diet, business, science, homework, gardening… complete freedom. So everything you have to do over a long period of time has its repeatability. It could even be the number of books or pages you've read, or counting calories. They can be trivial, or things worth a lot of money. You decide on the date and time of execution. It can be minutes, hours or even weeks. You don't have the time or space to think, describe the benefits of achieving your goals, or motivate yourself: do it today, or maybe tomorrow. I assume you just have to do what you have planned. My planner is constructed in such a way that first you have to assume how many activities you want to do, for example in sports: push-ups, or kilometers to run, etc. If you can't manage, reduce your plan, do less. If you miss one square and there will be «zero» in it, that will be a reason to catch up with the missed opportunity. So, if you're having difficulty getting a task done, try the minimum. Remember, when you do more it will always look better and will motivate you to continue. And the biggest motivation will be if you do twenty instead of ten scheduled squats.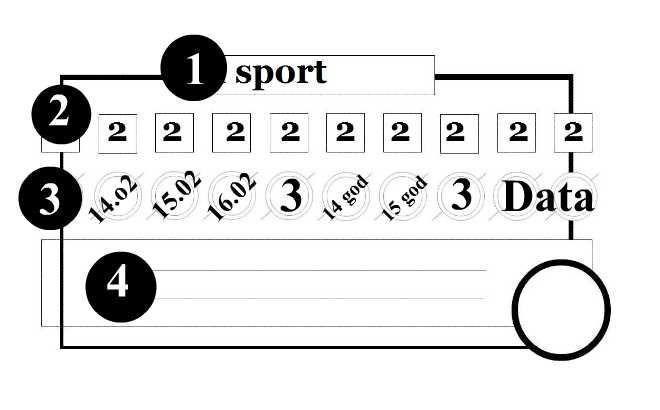 So let's get down to the rules. You can use felt-tip pens and mark completed tasks in green and missed tasks in red. Bring color into your life. In the first column, you enter what the task is about: e.g. sports, diet, business, advertising or sales, and so on. The second square is ten squares. Each square is a stage. Suppose these are days. So every day you write down how much you've managed to do with the planned activities. At the bottom of these squares there are circles, of which there are also ten, where we enter e.g. a date, time or a number. Depends on what you need, how you want to label, all at your discretion. This is the first step in executing your plan. It is best to enter completed tasks one by one. You didn't make it, you enter zero. It will motivate you to work and you will definitely do more tomorrow. You may not want to see the zeros and you will be follow your plan. The last large rectangle with a circle: there you enter the exact goal, i.e. what you want to achieve, next to the date and the amount of time you will do it. The circle is used to summarize your goals by a number. If you do everything, the entire calendar will be green, which I wish you!
In my professional career, for many years I was involved in increasing income in companies, I worked beyond my strength, under constant pressure. Eventually, physically exhausted and mentally, I gave up everything, devoting myself to working on myself and my life path. Spirituality. I gave myself up to the search for answers to the questions: what exactly is this world and its creator like? I felt the need to analyze the entire universe, its structure and the secret of its creation. On what foundations is it based and whether God was able to create everything. You may be surprised, but I found answers to most of my questions. Currently, I am happy to learn in coaching, mentoring and motivational training. This planner is based on the right motivation and achievement of goals. If you need help in setting goals, you can always write to me, I will definitely advise you. My knowledge of how easy it is to carry out planned activities results primarily from my own experience. However, your opinions will help me improve (because everyone has a different way of planning) my work, which will certainly be modified over time, just to reach success even easier.
As I mentioned, I am the author of many analyzes, and my favorite is the theory of 456, which is a work on what time is and what its nature is. There I also analyzed the concept of a photon, black holes and the broadly understood subject of space. I invite you to read my thoughts in the book «Atlantis, illusion».
By purchasing my planner, you are helping to create my new book «SaaG, the Light of Atlantis». The book is addressed to everyone who has been struggling with problems all their life, who has any difficult situation — it would seem like no way out — and wants to overcome it. Why do some people have constant difficulties in their lives, encounter constant adversities and various insurmountable barriers. How can this be fixed? This book will make you stronger. Thus, you support my next project, through which I am going to help people solve their problems, overcome their distress, pain and all kinds of difficult situations.
I wish you full enjoyment and creative use of the planner and complete all planned tasks! It is simple, you only need to want!
e-mail contact: biuro@nema.pl
http://audiobook.work