Introduction
Each person fascinated by some occupation, certainly aspires to perfection. It is important not only to create, but to surpass themselves. Needlewomen are the same.
There are several ways for perfection. Some are going to create the world's largest embroidery, others try to find the most unusual composition, third people focus on craftsmanship. This book was created for the last one.
There is a special incomparable feeling of joy and victory, when somebody consider embroidered picture as fine-art photo or reprint. It's gratefully when somebody is asking permission to touch the embroidery to make sure that the image is actually made up of the threads, jewelry packed in crosses. It's pleasantly to see delight and amazement and in the eyes of the audience.
The charts in this book are designed in order to cause just the same reaction. Hence there are rather big numbers of floss shades, some single-placed crosses in plot-important parts of designs, ragged edge of the color patches. It is really necessary thus we want to have highly artistic design, aren't we? With all this going on the cross-stitch charts are manually designed to composed to the last cross. All extra single crosses cleaned, all foreign, duplicate, inadequate shades ruthlessly removed. All that's left are organized and grouped for easy and pleasant embroidery.
For obvious reasons, this book does not provide instructions in cross-stitch embroidery for beginners. It is assumed that the readers are experienced enough. If it so happens that you have little experience but great desire to embroider one of the patterns in this book, please, do not hesitate to e-mail at StitchDesigns@i. ua and ask. The author will certainly help.
And now it's time to turn the page and start the most enjoyable and thrilling — embroidery!
Chapter 1.
Magnolias on Gold Velvet Cloth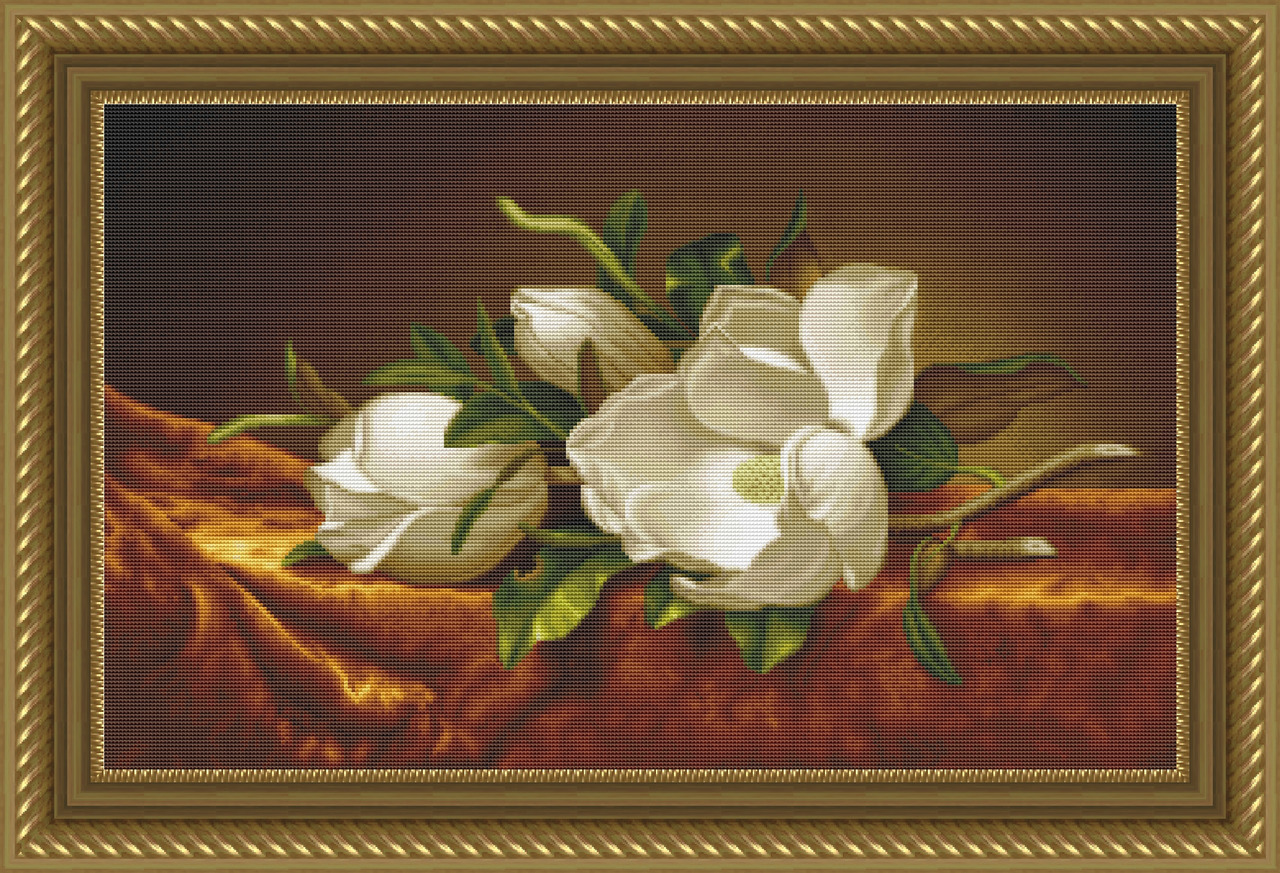 Magnolia is amazing ancient plant, it appears in the Cretaceous period of the Mesozoic era. It was the era of dinosaurs dominance. Luxury magnolia flowers was possible to meet up to the borders of modern Arctic.
Bees did not exist at that time, and pollination of plants took the beetles. Large flower could withstand the weight of large insects. Hard carpels did not afraid their damage and were not suitable as food for voracious beetles.
Approximately 240 species of magnolias adorn modern parks, alleys and botanical gardens.
7 steps for successful embroidery
1. Take the fabric of recommended size. Overstitch all edges.
2. Find the center and the borders of working area. Make a desision from what point or adge to start. Determine for yourself the direction of the embroidery.
3. Keep all stitches in the same derection to make your embroidery professionally looking.
4. Never make knots while fixing the threads. All tails tuck in under stitches, superfluous is cut off closely to stitches. Any knot after an ironing will press through crosses and will spoil work.
5. After finishing put the embroidery into a cold or cool water with a small amount of dish detergent. Keep for 2—3 hours to make it kleen.
6. Rinse your embroidery properly, take out from water, allow it to flow down, spread out on the towel and roll in a tubule, wringing out the rest water in the towel. Repeat this procedure once more.
7. Iron the embroidery carefully using gauze cloth. Do it both from odd and even sides until it becomes dry.
Design specification
Design size: 290x180 stitches
Fabric size: 55x40cm (22x16in)
Recommended fabric: Aida 18 ct Zweigart Ecru
Recommended floss: cotton mouline DMC art.117
Amount of shades: 90 = 31 solids +59 blends