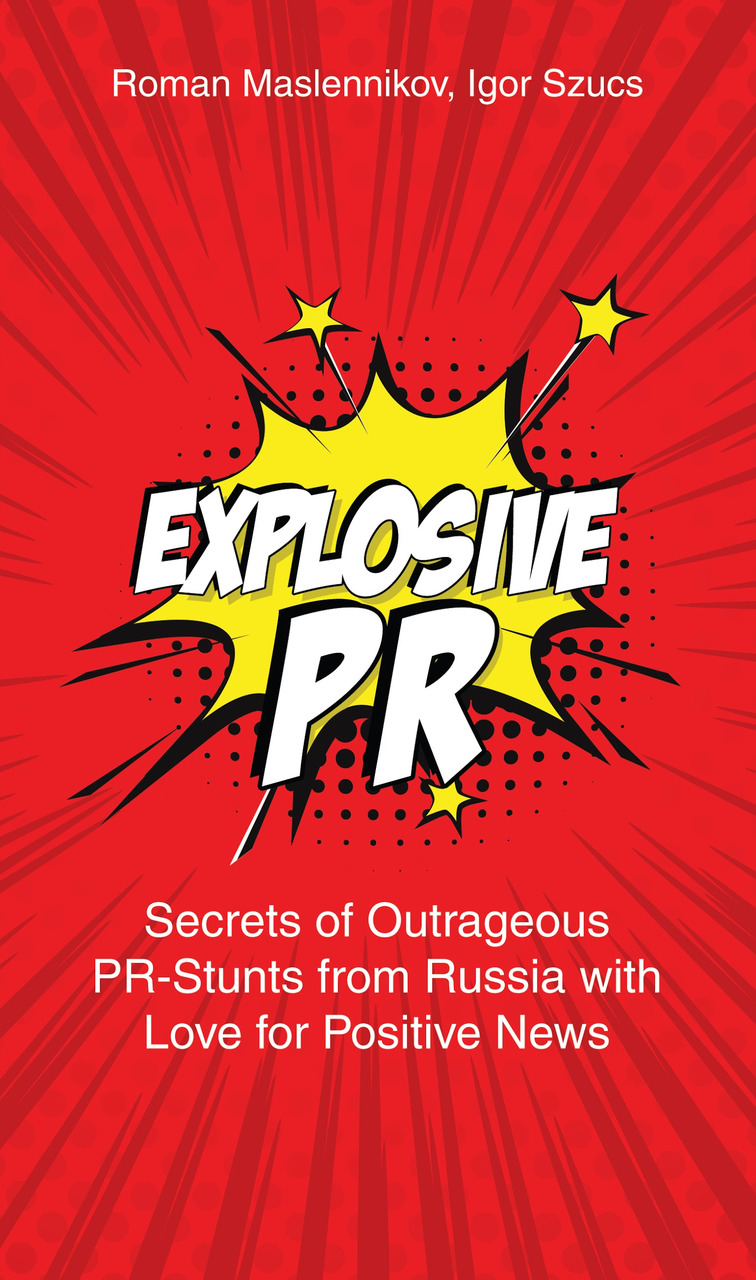 This looks interesting and energetic.
Douglas Rushkoff, "Media Virus"
Book's Hashtags
#PR #spindoctors #communications_directors #PRaides #propagandists #MalcolmTucker #TheThickof It #IntheLoop #Kasper #Borgen #TobyZiegler #TheWestWing #Scandal #crisis_management #Olivia_Pope #AbsolutePower #public_relations #propaganda #Alternative_facts #Big_lie #Doublespeak #Euphemistic #misspeaking #Euromyth #Fake_news #Half_truth #Ideological_framing #Internet_manipulation #Media_manipulation #Post_truth #Propaganda #Scientific_fabrication #Yellow_journalism #manipulation #Misinformation #disinformation #business #entrepreneurship #balls #cool #news_tornado #Wag_the_Dog
#atomic_news #buzz #pr_stunt #Stampede_PR #media_virus #PR_hook
Contents
Preface
This book could be written by my Russian friends (including Kremlin-based spin doctors), PR people from IT companies and start-ups. Occasionally, I see messages in my Facebook feed: "I could tell you so many things, but I'll never do it, not even in memoirs."
I'd be delighted to read such stories with you and with law enforcement officers, but my friends would never write a book like that and certainly not because of their respect for the law. In fact, there is no PR and lobbying regulation in Russia. This is just the PR ethic: if the client says "no" you should please him/her, no matter what.
I take high risks publishing this book, telling how things are done, and how explosive PR campaigns are concocted.
Want to know why it is risky to publish or even to read this book?
To begin with, I did not ask the permission of all my clients about whether I could publish their cases. I feel the moral right to do this without their permission. For instance, the budgets of some PR campaigns were so low (based on mutual agreement) it did not seem possible to do them only for the sake of money or pleasure (which is equally important). But if I enjoy the process of telling about this experience and thereby attract more clients to well-paid projects, it can be justified. First, I wanted to use the phrase "serious projects," but then it dawned on me that my projects are more like laughing gas, so "well-paid" sounds better.
Regarding one project, the client said to me, "Please do not expose this was a PR stunt." I ignored this request. Well, frankly, there's nothing special to scheme against anybody. I'll never write about really dangerous PR cases since my self-preservation instinct is sharp.
Secondly, a common opinion is that it's difficult to repeat something known to all. Many entrepreneurs and business consultants used to tell me: "Why expose these tricks? How are you going to make a nickel? You unveil loaded dice." My rebuttal comes down to my two convictions: let competition and the level of PR campaigns rise as a result of strenuous effort and PR people overreaching themselves. I earned my first degree in journalism, and this explains a lot. You cannot hide an owl in a sack — this is what people normally say about the likes of me.
In the final analysis, the outcome is similar to that of John Godfrey, a friend of Ian Fleming (author of James Bond novels). In prewar years, he published The Trout Memo, where he described 51 ways to mislead the enemy, and then brilliantly backed Ewen Montegu.
That story is described in Operation Mincemeat. They did in real life what was described in the memo, despite it being thoroughly studied by enemies. Nevertheless, they succeeded.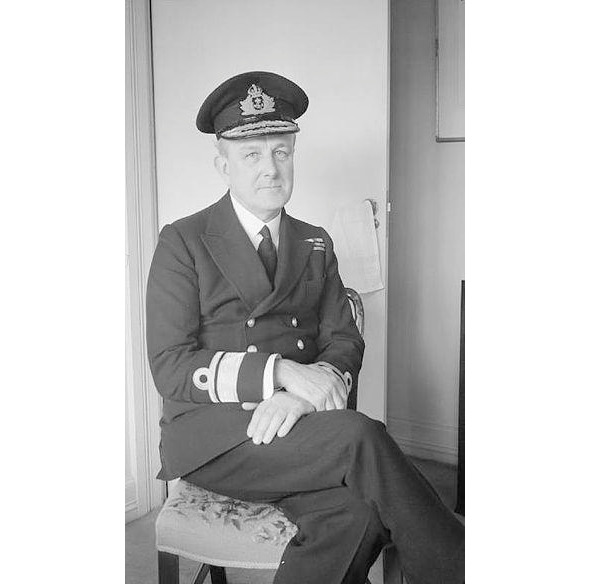 Rear Admiral John Godfrey
The operation's result: a passport for the man who never lived
Or take the US government which started more than one war after the release of Wag the Dog in 1997, which was the screening of Larry Beinhart's American Hero (1993).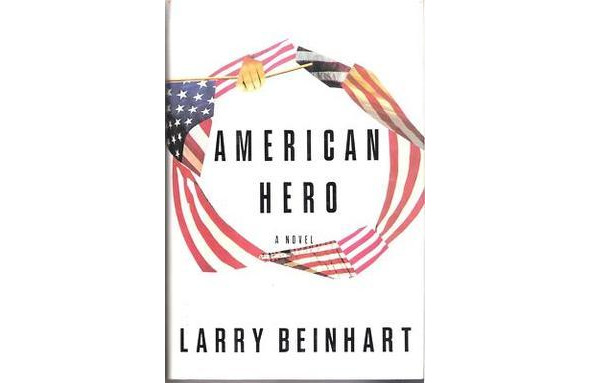 Not all wars were launched to smother up a sex scandal, but some provocations definitely took place.
For instance, it's not clear if there was a real chemical attack in Syria before Trump smashed the Syrian forces with tomahawks. Maybe that attack was provoked or staged or could be seen only in a video and photos. I am not 100% sure, but smoke screens are always used to trigger a war machine.
This book is about business, not war.
Let me share several cases with you. If you are interested to know how we reached these results, continue reading this book.
Crazy News. Made in Russia
What are other ways to describe our news? Crazy PR? Shock PR? Spin Doctoring? Grass Roots Lobbying? Close indeed, and yet they do not hit the mark. On one occasion, my PR specialization was translated as "stampede". Yet I'd prefer the phrase "explosive PR". Hopefully, I've invented something new. This is what creative director of the Leo Burnett advertising agency, Jay Conrad Levinson, once did with the phrase "Guerrilla marketing".
Now, let's move to cases. All of them are planned by my explosive PR-campaigns.
Raccoons Ransack an IT shop
We trained raccoons and used an alleged candid camera to film them moving our client's boxes over the office with Internet boosters. We placed our client's logo in the frame: https://www.youtube.com/watch?v=ZnuE9IhQYjk
After that, we sent an animal tamer to the shop while broadcasting the news that raccoons had ransacked the shop, spoiled the products, and it was a real nightmare. The animal tamer learned about our interpretation of events from the news and seemed to be a bit concerned, but that's about all.
Meanwhile, the news went viral, first on national and then on foreign networks:
https://www.rt.com/news/254993-raccoons-destroy-office-moscow/
http://360tv.ru/news/dressirovannye-enoty-isportili-internetoborudovanie-v-magazine-yota-20465/
http://ren.tv/novosti/2015-04-29/enoty-ustroili-debosh-v-stolichnom-magazine-video
http://www.independent.co.uk/news/world/watch-three-badly-behaved-raccoons-ransack-an-office-in-russia-10218013.html
It was particularly exciting to read about the "damage" done by our animal companions, estimated in GBP.
As performers of that promo action, we were content with sparking a public outcry in Moscow, but we sent shock waves over the world. The client thought this effort was insufficient, however, and we had to stage one more promo event to fully satisfy him, which brought me to an even more exciting experience I'll soon tell you about.
Incidentally, our team was inspired to create the viral video in a fish shop of Vladivostok airport, where a cat ate delicatessen worth 60,000 rubles (about $2,000 in those days): https://www.youtube.com/watch?v=eqdvk-x2HZg
You may think we mistreated the raccoons by demonizing them. I agree, but for the sake of justice, I must add we also decriminalized them in media. In another promo action two years later, a raccoon from the same company became the animal that saved a clothing boutique from plunder: https://www.youtube.com/watch?v=1XszPhXTFO0
And then we allowed raccoons from another company to admire a woman's tits, but that is a different story.
Trial Over the "Russian Google"
I personally dislike the news in Russia, with all those car accidents, murders, crashes, and man-caused disasters hitting the headlines. Who needs this depressing stuff? Even Professor Preobrazhensky from The Heart of a Dog after the eponymous novel of Mikhail Bulgakov made a point about the pernicious impact of Soviet newspapers upon digestion. "And God keep you from reading Soviet newspapers before lunch!"
Someone told me it's a bit different in the US where you hear more positive news.
So, my attorney and I thought of something: the main culprit is the Yandex search engine, most popular in Russia, where the main page always shows the top five news by default. I expressed my discontent in the lawsuit where I claimed I was "growing bald because of bad news," having attached to it the opinion of a trichologist where he confirmed that stress indeed causes hair loss. It was up to the press to fill in the blanks and connect the dots.
As a result, we had the following publications:
http://mashable.com/2016/03/18/russia-bad-news-lawsuit/#.EKwMdSbuPqm
https://www.joe.co.uk/news/moscow-man-is-trying-to-sue-russias-google-for-publishing-so-much-bad-news-he-became-bald-47814
http://www.sulromanzo.it/blog/diffondi-troppe-notizie-negative-e-allora-ti-faccio-causa
and a lot more.
The guys from Yandex must have found the phrase "Russia's Google' as their description particularly hilarious.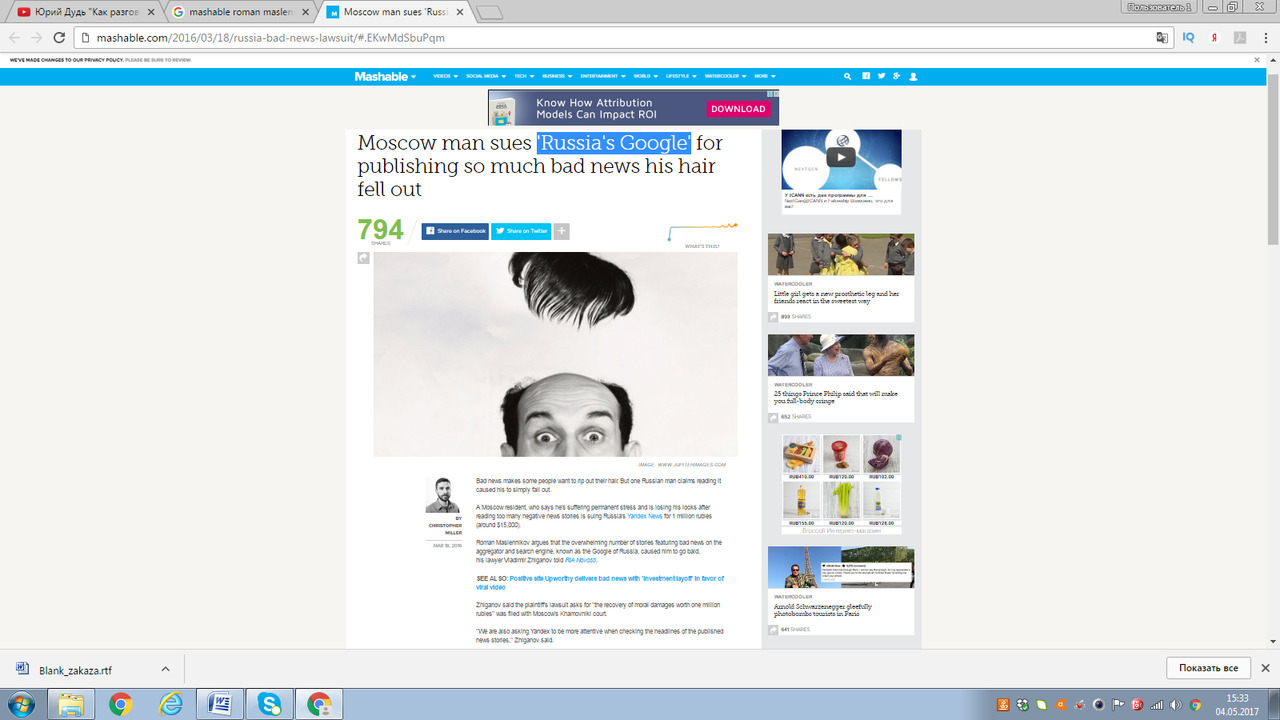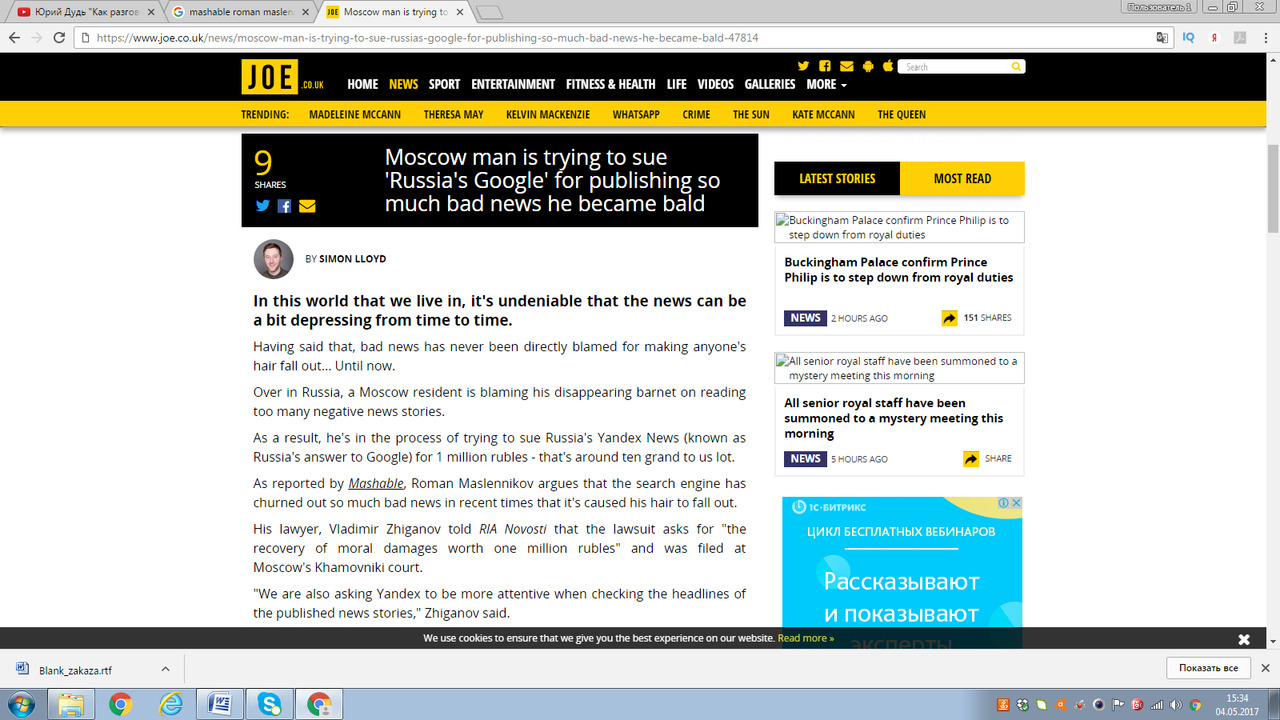 Eventually, I got an amazing spin in the international arena and respective new clients to boot.
The PR-secret of Cat Woman and Professional Bed Warmer-girl
My friend told me an anecdote about the Russian poet Sergey Yesenin who ordered the maid's services with his colleague Marienhof in soggy St. Petersburg. Her main service was warming the beds for poets and then leaving.
Four days later, she quit the job because she was flabbergasted that she was never harassed and she hoped this would be the case.
This was a cute anecdote, and I decided to repeat it in modern-day Russia with my client — the landing web page LPgenerator.ru. We came up with the she-is-generator.ru site, found a "heroine" who would be a "cat woman" (or "bed warmer"), and launched this hoax in media: https://life.ru/964200
How many leads (potential queries) do you think she received on the first day? (the right answer: more than 200).
How many clients actually used her services? (the right answer: more than 0).
How much money do you think Viktoria Ivachyova made out of that hoax? (the right answer: more than 100,000 rubles or about $2,000).
These were fees paid to the young entrepreneur by media, foreign outlets prevailing (Chinese and German TV channels).
The result was over 50 publications, of which 15% were foreign press releases:
http://www.mirror.co.uk/news/weird-news/meet-worlds-first-professional-bed-9748489?ICID=FB_mirror_main
https://www.thesun.co.uk/living/2779994/worlds-first-bed-warmer-will-slip-between-your-sheets-in-her-pjs-and-let-you-watch-for-65-per-night-but-its-strictly-no-to-sex/
http://10ways.com/profit/alternative-jobs/woman-earns-1350-per-month-warming-beds-with-her-body-heat
http://www.ibtimes.co.uk/professional-bed-warmer-charges-65-night-bizarre-new-entrepreneurial-idea-1604865
https://v.qq.com/x/page/o03710lkpwq.html
http://navbharattimes.indiatimes.com/world/asian-countries/meet-the-professional-who-warms-beds-for-a-price/articleshow/56980815.cms
http://www.nai2.com/dailymail/8617.html
http://maharashtratimes.indiatimes.com/lifestyle-news/sex-news/viktoria-ivachyova-believed-to-be-the-worlds-first-professional-human-bed-warmer/articleshow/56981621.cms
http://www.odditycentral.com/news/the-human-bed-warmer-russian-woman-offers-bed-warming-services-for-single-men.html
http://www.bhaskar.com/news/KZHK-meet-professional-bed-warmer-news-hindi-5521933-PHO.html
http://www.emirates247.com/offbeat/this-is-life/woman-becomes-world-s-first-professional-bed-warmer-2017-02-06-1.647720
http://indianexpress.com/article/trending/bizarre/human-bed-warmer-russian-woman-has-a-unique-job-making-beds-cosy-for-hotel-guests-but-its-not-profane-4519747/
http://usfinancepost.com/meet-Viktoria-ivachyova-the-worlds-first-professional-bed-warmer-27916.html
And others which you may google using the "Viktoria Ivachyova bed warmer" query.